My Husband Rocks- Flowers
I have been looking forward to posting about Kev this week. Don't forget to go over to
The Great Adventure
so you can participate in
"My Husband Rocks" Friday's
too.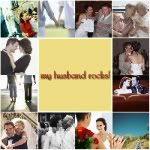 My hubby, Kevin rocks because
he's so thoughtful
. As many of you know, I had hurt my knee enough to keep me from working out for over a week now and I had to go to the doc's to get a shot (oh yeah it hurt). So not fun. Anyway, Kev went to the gym for spin class alone last weekend and came home with these beautiful flowers afterwards. What a sweetheart!
PS. He makes sure to ALWAYS include purple flowers, my favorite.
Thanks honey for
always making me feel so special
.
Labels: meme, My Husband Rocks